---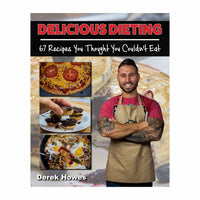 Sale
Don't feel comfortable purchasing from here or are purchasing outside the United States? Purchase directly through CreateSpace: https://www.createspace.com/6150219 or Amazon: http://amzn.to/2l5iNZH
NEVER STOP EATING DESSERT! This book will teach you how to incorporate ANY recipe into your diet!
Derek Howes, The Protein Chef has helped thousands all over the world lose weight and gain muscle without giving up the luxury of great tasting food. Over the last decade he's been creating healthier alternatives to unhealthy food in his attempt to set the world free of bland and boring diets. This series, Delicious Dieting, features exclusive recipes you thought you couldn't eat but can! Is your sweet tooth kicking in? Make one of The Protein Chef's famous low fat and high protein cheesecakes! Craving something savory? Bodybuilding Mac & Cheese should do the trick!
Every book in the Delicious Dieting series is packed with healthy breakfast, dessert, lunch, dinner, AND side recipes for any diet.
Each volume has:
100's of high quality photographs
Detailed nutritional information and serving sizes for EVERY recipe
Weight in both grams and ounces for all of the ingredients
Substitutes for key ingredients
Both diet and kitchen tips and tricks
How to Diet Delicious which includes nutritional understanding AND workout programs (a new one in every volume)
By the end of this book you'll know how to incorporate any recipe into your diet and still reach your goals. No more fad, overpriced, or unhealthy diets needed. Eat what you want, WHEN YOU WANT IT while sustaining a healthy lifestyle.
Delicious Dieting will always have exclusive content including the Delicious Dieting protocol, 80+ pages per issue, 60+ recipes per issue, and absolutely no FILLER. Over the years I've mocked up more than a handful of recipe books (seriously, 100's of hours worth of content) but have never been passionate about publishing any of them...I just wasn't happy with the end result. My goal was to create a book that had just enough information, stay affordable, and remain high quality. I can't tell you how happy I am (happier than a kid in a kid in a candy store) with the end result of Delicious Dieting BUT I can promise you that you won't be disappointed. 
All eBook purchases will be sent to the e-mail you list during checkout within 24 hours.